Friday, June 16, 2006 - 11:07 AM
Man caught in Dateline / Riverside County Sheriff's Department / Perverted Justice sting sentenced to prison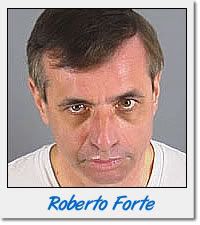 Roberto Forte, 55, Tustin, appeared before Superior Court Judge Bernard J. Schwartz today to be sentenced for his previous guilty pleas of an attempted lewd act on a child under 14 and of attempted sodomy of a child under 14, both felonies.
Forte was one of the notorious 'Riverside 50', a group of men caught during an Internet sting operation conducted in January of this year by Dateline NBC, the Riverside County Sheriff's Department and the watchdog group
Perverted-Justice
.
Forte asked for leniency and probation, saying he had lost everything including his child and job.
Judge Schwartz reminded Forte he had been caught at the Mira Loma home of the sting operation with beer, condoms and sexual lubricant to have sex with who he thought was a 13-year-old boy.
California law allows for a maximum of four years for each charge but Judge Schwartz, noting that Forte had no previous convictions, sentenced him to 2 1/2 years in state prison.
Forte, who had been out on bail, was then shackled and taken away to begin serving his sentence.